Congratulations to Taljar stud (Kangaroo Island) who took out top accolades at this year's Royal Adelaide Show winning the Supreme Interbreed Long Wool Ram and Reserve Champion Interbreed Long Wool Ewe. Interbreed judge was Gavin Wall from Melbourne.
Statistics for the ram included: age 2 years;
Weight 127kg;
Micron 22.1;
CV 16.6;
SD 4;
CF 99.1;
Eye muscle depth 40;
Width 80;
6mm fat coverage.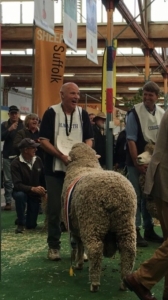 Announcement of the Interbreed Champion Longwool Ram
Statistics for the ewe included: age 2.5 years;
Weight 98kg;
Micron 21.6;
CV 16.7;
SD 3.6;
CF 99.3;
Eye muscle depth 42mm;
Width 92mm;
8mm fat coverage.
Ewe had lamb at foot; June drop; weight 37kg.
Taljar's Interbreed win featured on the front cover of the Stock Journal

Taljar's Supreme Interbreed Champion Longwool Ram and Reserve Interbreed Interbreed Champion Longwool Ram